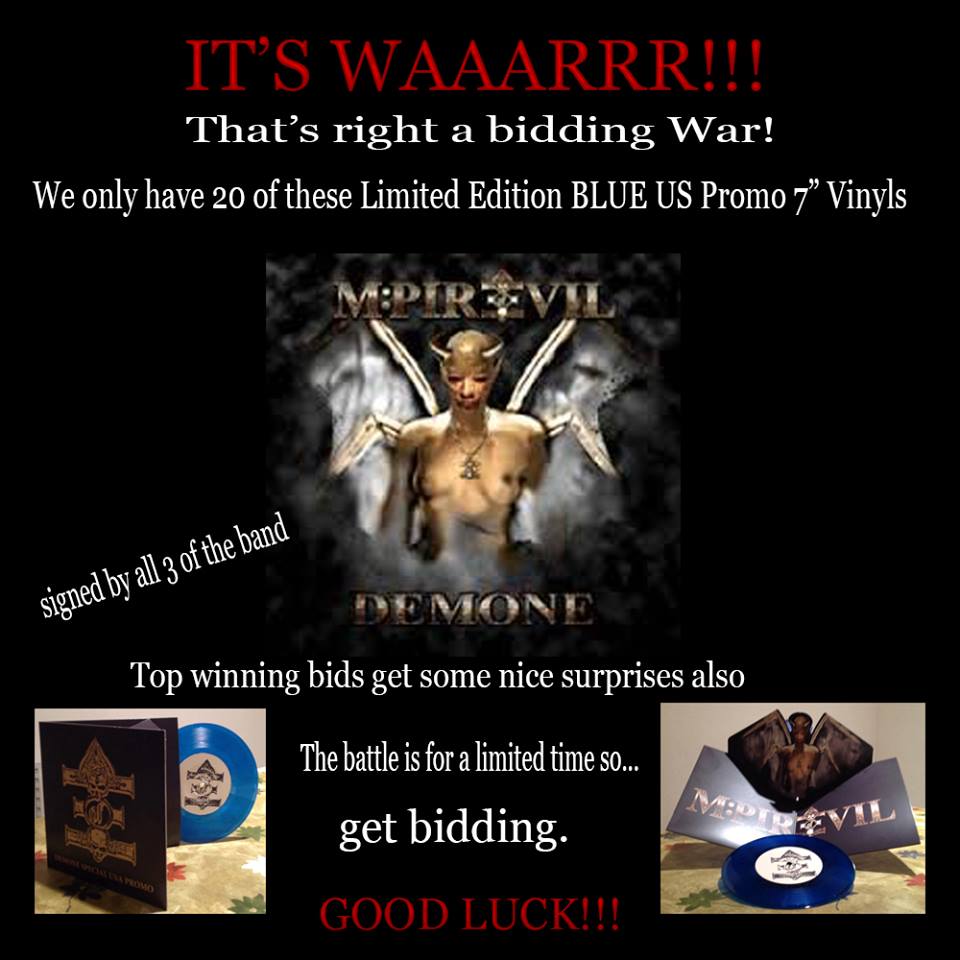 M:PIRE of EVIL - DEMONE 7"
BLUE
VINYL
Stictly Limited Edition, Autographed by MANTAS, JXN and THE DEMOLITION MAN
MANTAS, JXN and THE DEMOLITION MAN

The winning bidders are listed on the right >>>>>>>>>

Antony Livanios – Greece
Marc Canipel – Belgium
Ville Komonen – Finland
David Ennice - Scotland
Claudio Bighetto – Italy
Frank Skalsky III – USA
Kristian Grenier – Canada
Mia Ito - Japan
Margie Green – England
Andy Parry – Ireland
Sam Johnson - USA
Patrick Goretzka – Germany
Sarah Williams - Austrailia
Collette O'Donnell – Ireland
Stefano Loi - Italy
Yamamashi Ito - Japan
Ray Sutliff – USA
Rodrigo Moriera - Mexico
Pedro Alfonso Murcia – Spain
Bernd Henksmeier – Germany
There has been a deluge of e-mails to this site asking about the already infamous DEMONE 7" Blue Vinyl. After much headscratching and discussion, we think we have come up with a fair system to give each of you HELLSPAWN a chance to get one of these M:PIRE of EVIL rarities. We have only 20 of these Blue Vinyls available, they are strictly limited and you will all have a chance to bid for one. So the Top 20 bidders will receive this very special signed DEMONE vinyl. Each winning bid will not only get the 7" but some extra surprises with their prized 7"...GOOD LUCK...
The Rules:
You have ONE bid only, multiple bids are not allowed. In the event of a non-paying bidder, bidder Nr. 21 will be elevated to the winning bids.
You must use your REAL name when placing a bid. The 20 winners will be listed on the website, though the bid amounts will remain private.
There will be no updates on bid amounts, etc. The winners will only know if they have been successful when the bidding deadline has passed, where you will receive notification of your winning status and requested to pay.
Please do not place any bids that you may not be able to pay. If you place a bid, you are obliged to pay the bid amount.
Start Date: Monday 19th May 2014
End Date: Monday 10th June 2014
To submit your bid, simply send an
e-mail
to us here at the Official M:PIRE of EVIL Website. Please include your name and country, and your bid amount. Make sure to write "DEMONE BLUE AUCTION " in the subject field.
Maximum one entry each person. We will contact the winners, and then they will be announced on these pages.